Backing up and transferring user-entered materials (in the Materials database & Templates)
The U-value Materials database & Templates is comprised of two parts - the materials we add and update and are built-in to every version - and the materials and changes individual users make to the database.
The changes and inclusions made by individual users are contained in two text files in the JPA Designer folder. They are only held in this one place and must be backed up as part of your normal schedule, or you could lose all the data.
In addition, if you move JPA Designer to another computer or need to upgrade your existing computer, these files will need to be transferred if you want to access the materials you have added/modified.
NEW FEATURE
With version 5.03a2 we have had to change the location of some of the user data files. From 5.03a2 the default locations for user data files are:
• Windows XP: C:/Documents and Settings/All Users/Application Data/JPA/JPA Designer981.
• Windows Vista: C:/Users/All Users/JPA/JPA Designer981.
• Windows 7: C:/ProgramData/JPA/JPA Designer981.
The user data files include the user-defined materials and categories in the Uvalue materials database and any user-defined mechanical fixings defaults. The files are Clients.TXT; MechFastCorr.txt; USERMATS.TXT; USERCATS.TXT
This means you can now change the location of the user data files to another folder on your computer or to a network drive. This allows several users to access the same materials database.
The location is set using the User data folder controls in the program Options dialogue:
1. In the Project Manager window open Options.
2. On the General tab click Select next to the the User data folder box.
3. In the Select Directory dialogue pick the new folder you want to use.
4. The user data files will now be copied to the new location.
Version 5.03a1 and older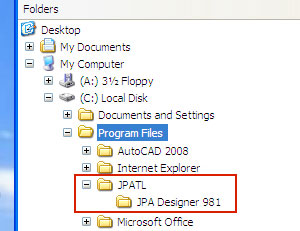 Finding the user-entered materials file in the JPA Designer folder:
The files are in the JPA Designer 981 folder, in the PC Program Files folder (see right):
> (C:)
> Program files
> JPATL
> JPA Designer 981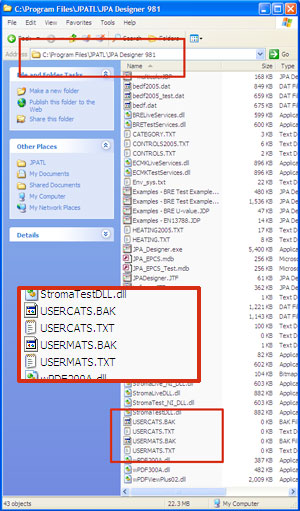 Backing up or transferring the user-entered materials files:

Once you have located the folder you need to back-up / transfer the USERMATS and USERCATS text files and the two back-ups.
If you are transferring to another computer just drop the four files into the JPA Designer 981 folder and overwrite the existing files on the new computer.
USERMATS and USERCATS files which have no data / materials added will have a size of 0KB. Although these files never get very large (as the data is contained in text format), as soon as you enter materials the files should show at least a few KB.