Setting print-out margins and fonts
Output options (including setting the page margins and fonts) in JPA Designer are set using the Options menu in the Project Manager window.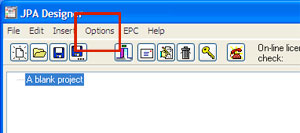 To do this:
In the Project Manager window select Options from the menu bar. The Options dialogue opens.


Click on the General tab.
There are now five boxes to complete
in the Printer margins (mm) section.


Use the Top (page 1) and Top
(page 2...) to set the top margin. This is the distance to the start of the text so you need to allow a space for your logo is you have added one.

The other three boxes set the margins on the left, right and bottom of each page. Remember what you set the left margin of your logo if you have added one.


If you want to change the font on the print-out you can do this from within a calculation.

Select 'File' then 'Font' from the menu. Select the font, style and size from the next window and click 'OK'.